Punam Verma - Interviewing Skills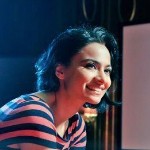 Punam Verma is TV & Radio Journalist, Presenter and Producer.
Www.punamverma.com
She started her career with the BBC, and then went on to host the longest running TV show on Dubai One TV.
Currently she is hosting a producing a brand new travel show for SKY TV called SOUL traveller.
Her career has taken her around the world from Dubai to Hong Kong, she has interviewed worldwide celebrities from Kim Kardashian to Lewis Hamilton. Hosted the red carpet at Film & Music festivals, and also had her first film premiered at the Dubai International Film Festival.
An expert in the media field, she will be giving us her top tips when it comes to preparing for TV and Radio interviews.
You can also check out her SOUL traveller page at www.soultravellermagazine.com
Punam will be speaking about:
Interviewing Skills
How to give a good interview?
Tips on different types of media
Soul Travel
If you would like to get in contact with Punam Verma about booking her for an event or doing a 1 to 1 coaching program with her please go to her site Www.punamverma.com
5 Top Tips on Being a Great Interviewee by Punam Verma.pdf