Warren Knight - Harnessing Social Media to find gigs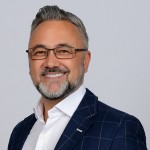 Top 100 Global Influencer, Digital Transformation (DX) Strategist, award-winning blogger, author of Think #Digital First and technology entrepreneur with over 10 years experience online.

Warren's vision is to help 100,000 global businesses successfully sell more products and services through the strategic use of digital marketing by 2020.

To reach this goal, Warren is helping create a radical rethinking though his certified professional speaking talks and training on how organisations use technology in pursuits of building brand awareness and new revenue streams.

EARLY ENTREPRENEURIAL SUCCESS

After receiving a grant from the Prince's Trust at 22 (following a career as a hip hop dancer), Warren started a successful European music and clothing distribution company. Next he became the director of a global stationery and accessory business working with Disney and Nickelodeon, where he grew the business from a $5 million to $30 million company in a 5-year period, selling to over 30 countries, and achieving $1 million sales in one month.

BUSINESS BUILDER

Since then, Warren has won various industry awards and co-founded two IT companies. The first, an ecommerce platform that received £150,000 investment via the Seed Enterprise Investment Scheme (SEIS), valuing the business at £1m within two years. The second, an online learning platform, teaching people how to setup and use social networks for their business.

INTERNATIONAL SPEAKER, TRAINER, COACH

Warren is a renowned international keynote speaker and a member of the Professional Speaking Association and CPD Certified. He is also a trainer and coach and has helped thousands of CEO's build their digital footprint, increase brand awareness and sales to grow their business.

PUBLISHED AUTHOR


Warren has written four books, three digital books on sales, international growth and social media available on Amazon. His latest 2nd edition of Think #Digital First book is available order. www.thinkdigitalfirst.today
Warren will be speaking about:
Harnessing Social Media to find gigs
Social Media is more than just Facebook
How to make the most of your posts
Using Linkedin to generate paying clients
Bonus:
28 Day Social Media Challenge Download for FREE (Usually $97)
http://www.thinkdigitalfirst.com/28-day-social-med...