Lotte Mikkelsen - Laughter Training, Laughter Business and the Laughter UK Association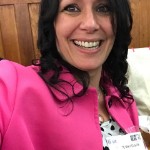 Lotte Mikkelsen is Laughter Ambassador and Laughter Yoga Master Trainer in the UK, as well as being a Laughter Therapist Trainer and Gibberish Trainer. She is Your Everyday Laughter Queen.
In 2017, Lotte celebrated a decade of delivering Certified Laughter Yoga Leader Training in the UK with passion, compassion, empathy and always with her students in mind.
After founding UnitedMind in 2002, the Laughter Yoga journey has been exciting and life changing in many ways. Working with organisations in the private and public sectors falls natural with her background of almost 20 years in technology companies prior to starting her full-time laughter venture.
Regardless of the numerous fine moments in her work and titles Lotte remains down-to-Earth and connected with all aspects of her teachings.
Her dream is to bring together all Laughter Yoga Professionals in the UK in a network to provide the best of services to individuals and teams, at home and in the workplace, in this country and beyond.
Lotte will be speaking about:
Laughter Training, Laughter Business
The different types of Laughter Training
Laughter Business
Telephone Laughter

www.unitedmind.co.uk - The Laughter Yoga Training and Workshop Company
www.lottemikkelsen.co.uk - Lotte's story and her vision for Laughter Yoga and Laughter Therapy
www.laughterassociation.co.uk - the official body for Laughter Professionals in the UK and supporting countries
www.laughteryogaconference.co.uk - The Playing Human Conference in London 27-28 September 2018
email [email protected]
UnitedMind-document-for-Simply-Laughter-Online-Summit-delegates-Meet-Patch-Adams-Interview-with-Robert-Holden.pdf