Joe Hoare – The Yoga Part of Laughter Yoga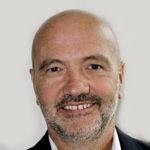 A crisis in my personal life over 30 years ago, detailed in my book, led me to become interested in personal wellbeing techniques that work, irrespective of how old/new they are, what they involve, and where they originated.

Following on from this, I started running British Medical Association accredited Stress Management Courses, which included laughter. ('Stress Management with a difference')
I came across 'The Laughing Clubs of India' in 1996, ran my first laughter workshop in 1997, and trained in laughter yoga in 2003 when I also set up the Bristol Laughter Club (www.bristollaughterclub.com), now the longest-running continuous series of laughter yoga workshops outside India.
I live in the UK, and have also lived and worked in the States and China. I have delivered and contributed to conferences, team events, wellbeing events and festivals on most continents, where my clients have ranged from blue-chip to Glastonbury festival, to media, education & charities.
I started teaching others how to use these skills in 2007.
Full information is on www.joehoare.co.uk
Main points in the interview:
The most important aspect of life is personal wellbeing. Without that, everything else falls to pieces.
My speciality is laughter yoga from the inside out. FEEL the quality of your smile and laugh. Focus on the inner aspect. When we focus on the inner aspect of laughter yoga, we connect with our innate joyfulness (as with yoga), and our laughter happens naturally, genuinely, spontaneously.
Do your 'apprenticeship' (10,000 hours, as they say) so that you no longer 'do' laughter yoga but are laughter yoga – you become a laughing yogi
Get clear about what, exactly, your own take on laughter yoga is. You will then naturally find your client base / 'tribe'
Through the Laughter Facilitation Skills course, aka #laughteryogawithJoe, I help people find their own unique path with laughter yoga material, and embed it in their own life, personally & professionally. This to me is the big potential of laughter yoga
These principles apply one-to-one, in training, at festivals, at conferences.
These principles also apply with specialist groups I am starting to work with like sight-loss groups – ie no eye contact!
A simple model is Move/Breathe/Smile, and the 2-minute video is available on request. Email me

[email protected]

for your own copy, or connect through www.joehoare.co.uk
My book 'Awakening the Laughing Buddha within', co-authored with the Barefoot Doctor, is a combination of science & medicine, ancient knowledge, personal story and practical exercises (available on http://www.joehoare.co.uk/shop.html )
I have created a short online course 'Living more joyfully – in just 3 weeks' at www.joehoareonline.co.uk
Joe will be speaking about:
The Yoga Part of Laughter Yoga
Laughing from the inside out
Get clear about what, exactly, your own take on Laughter Yoga is? You will then naturally, find your client base / 'tribe'
The importance of doing your apprenticeship
Awakening the Laughing Buddha within chapter 1.pdf