Diane Kichijitsu - Laughter in Traumatic situations, and on Cruises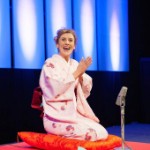 Rakugo Performer, Laughter Yoga Teacher, Laughter Ambassador

Born in Liverpool, England, Diane Kichijitsu's backpacking adventures have taken her through more than 60 countries.
Now residing in Japan, Diane has made a name for herself as a performer of Rakugo, the traditional Japanese art of storytelling, performing throughout Japan and overseas.
Rakugo stories are usually humorous in nature, and it is laughter that unites all the threads of Diane's career. In addition to performing Rakugo, Diane is also a professional speaker, balloon artist and Laughter Yoga Teacher. She has shared laughter with thousands of people in almost 30 countries via a unique blend of entertainment and education. She holds performances, workshops, seminars and Laughter Yoga sessions at a wide variety of venues.
Diane realized the true importance of laughter during her time spent volunteering after the devastating earthquake and tsunami in northern Japan in 2011. Performing Rakugo and giving balloon shows and workshops in the area's evacuation centres was a life-changing experience, one that helped her both reaffirm and reevaluate her career choice as an entertainer, sharing smiles and bringing laughter to people in times of stress, trauma and despair.
Her experiences inspired her to go to India to study Laughter Yoga with Dr Kataria, and she now incorporates Laughter Yoga into most of her shows, as well as conducting sessions exclusively focused on Laughter Yoga.
Diane's Rakugo, balloons, seminars, talks and Laughter Yoga workshops are all based on the importance of laughter in our lives.
Diane is a frequent guest on Japanese television and radio, and an occasional contributor to local and international newspapers and magazines.
Diane will be speaking about:
Laughter in Traumatic situations, and on Cruises
How Laughter helped after the Japan Tsunami
How to Niche
Working on Cruises