Olivera Radovanovic - Laughter Yoga Tourism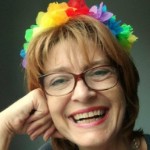 Olivera Radovanović - "Holyveerra", as her teacher and founder of Laughter Yoga, Madan Kataria calls her, is a witness of the power of our inner self-healing potential through laughter.

She is the implementer of this powerful techniques called Laughter Yoga in Serbia and the region, the leader of this profession in the region.
Olivera discovered Laughter Yoga while she was having breast cancer in 2008. She used this tool and made her emotional, mental and physical health strong recovering completely.
In 2011 she joined the LY movement by becoming an Laughter Yoga Leader and opened the first LY Club in Serbia on 1. May 2011, World Laughter Day, that is still running today once a week. People from all over Serbia, neighbouring countries as well as Nigeria, Austria, UK... attend her LY club.
She became a Laughter Yoga Teacher trained by Dr. Madan Kataria in March 2014. after which she founded and registered the "Laughter Yoga Serbia" association - NGO, the firs of a kind in Serbia, that was established to achieve the objectives in the affirmation of positive life activities through Laughter Yoga.
Olivera conducts Laughter Yoga all through the Balkans with women and men who suffer from cancer, children and adults with physical and/or mental disabilities, children of all ages, seniors, business people, corporations, other NGOs and everyone else who wants to laugh and be healthier, happier, more relaxed, more productive, communicative …. Her favorite is Laughter Tourism, which she has developed and covered many areas of the Tourism industry. From working in cooperation with tourism organisations, to organizing the 7 day Laughter Yoga Adventure Camp.
Her work is recognised all over Serbia and the Balkan region: Bosnia & Herzegovina, Montenegro, Macedonia...
She has been on all major state and local TV and radio stations, daily newspaper, magazines and internet portals, all of which you can find on the Youtube channel "Smeh Joga Srbija" and site www.smehjoga.rs
Laughter Yoga Serbia NGO got the support from the Indian Embassy for organizing and conducting Laughter Yoga sessions in 9 different cities in 7 days across Serbia on the occasion of the International Day of Yoga in 2016.
Madhuri and Madan Kataria appointed her to a Laughter Ambassador in June 2017.
Olivera knows that 'Laughter is magic' and unconditionally and with love shares it's power of positive and playful energy.
Olivera will be speaking about:
Laughter Yoga Tourism
Laughter Tourism
Laughing with corporate businesses in the Balkans
Laughter outdoors